Promoting British Values
An Apostrophe Promoting British Values at King's Farm Primary School
The DfE have reinforced the need "to create and enforce a clear and rigorous expectation on all schools to promote the fundamental British values of democracy, the rule of law, individual liberty and mutual respect and tolerance of those with different faiths and beliefs."
The government set out its definition of British values in the 2011 Prevent Strategy, and these values have been reiterated by the Prime Minister. At Kings Farm Primary School we reinforce these values as part of our learning and through our curriculum and regular assemblies where the spiritual, moral, social and cultural development of pupils is an integral part of the school ethos. We promote these values in the following ways:
Mutual Respect and Tolerance:
Respect is one of our core values and children are modelled this by caring, sharing and listening to others. We are an inclusive school where everybody is valued. This is reinforced through assemblies, the PSHE curriculum and circle time. Staff help children to understand respect by talking about how actions and words can affect others. This is reinforced through classroom and school rules We support others by collecting harvest goods for those less fortunate than ourselves and participating in national charitable events such as Sports Relief and Children in Need. This is reinforced through classroom and school rules. We promote understanding of different faiths and beliefs by participating in a range of celebrations throughout the year. We hold whole school assemblies to mark major Christian Festivals such as Harvest, Christmas, Ash Wednesday and Holy Week/ Easter. When possible we invite parents to join us for these. Our children follow a curriculum which educates them about different faiths in an atmosphere of listening and enquiry, thus enabling them to develop British values of tolerance with critical thinking. We celebrate the diverse school population by displaying flags from the different countries that our children come from as a focal point in our school hall. Members of different faiths or religions are encouraged to share their knowledge to enhance learning within classes and the school. We visit local religious buildings such as Holy Family Church and the Gurdwara.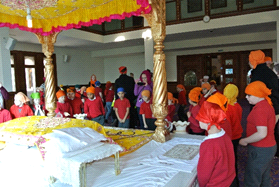 Children visiting the Gurdwara
Democracy:
Democracy is a fundamental part of life at Kings Farm Primary School. Pupils have the opportunity to have their voices heard through our School Council, Pupil voice and from the elections of House Captains. Pupils also have the opportunity to develop their understanding of the democratic process when working together in class activities. Staff model this process by asking children questions and inviting their answers and opinions.
In Child Initiated Time in Early Years children develop their decision making skills to make informed choices and take responsibility for them.
Individual Liberty:
Within school, pupils are actively encouraged to make choices, knowing that they are in a safe and supportive environment. As a school we educate and provide boundaries for young pupils to make choices safely, through the provision of a safe environment and empowering education. Pupils are encouraged to know, understand and exercise their rights and personal freedoms and advise how to exercise these safely and responsibly. Pupils are included in the choices that they make through identifying challenge in their learning, understanding how their behaviour affects those around them and attending extracurricular activities.
The Rule of Law:
The importance of Laws, whether they be those that govern the class, the school, or the country, are consistently reinforced throughout regular school days, as well as when dealing with behaviour and through school assemblies. Pupils are taught the value and reasons behind laws, that they govern and protect us, the responsibilities that this involves and the consequences when laws are broken. In our school policies, such as those on behaviour, equality and anti-bullying, we embed within our school British values of fairness, openness and respect. Our values are permanently displayed at the school entrance in our murals which children, parents and staff all helped to make.
Being British
To celebrate being British we study key historical figures and events in British history, develop geographical knowledge about Britain, and celebrate national events such as Remembrance Day, the Olympics, World Cups and Royal events.
Children meeting the Deputy Lieutenant of Kent at the town's Remembrance Day Service